Acerca de Nosotros/About Us
Educación, Ecología, Ciencia, Tecnología, Conciencia y acciones que ayuden a mejorar la calidad de vida en tu comunidad y...en el mundo.
Education, Ecology, Science, Technology, Conciousness and actions to help better the quality of life in your community...and the world.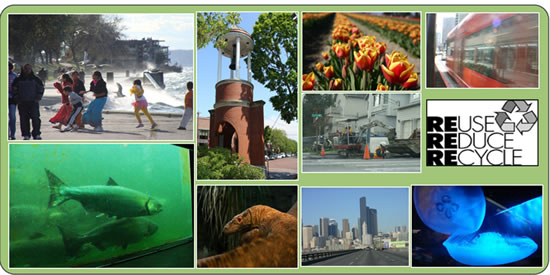 Somos la primera y única revista bilingüe educativa acerca de sustantibilidad ambiental, totalmente gratis en el area de Seattle.
Nuestra versión impresa es distribuida dos veces al año (verano e invierno) en los condados de Pierce, King, Snohomish, Whatcom y otras importantes ciudades del Estado. Estamos creciendo con nuestra comunidad mientras creamos un importante enlace hacia la información que promueva más acciones sustentables para la sociedad y el ambiente.
We are the first and only bilingual magazine about sustainability education (Green magazine) totally free in Seattle area. Our printed version is distributed twice a yera (Summer and Winter) in Pierce, King, Snohomish, Whatcom counties and some other important cities in the State.
The articles are in both Spanish and English. The focus is on living and doing business in a more sustainable manner. The magazine is available for free to the community, in both print and electronic versions.
Nuestro objetivo es crecer con nuestra comunidad por medio de la información y educación, conociendo más alternativas y opciones que mejoren la calidad de vida desde un punto de vista sustentable.
Aprender juntos acerca de las Eco acciones que podemos practicar dentro de una Lógica social amigable con el ambiente. Esta es tarea de todos.
Eco-Lógica (Eco-Logical) Magazine.
Committed to
Bringing Information about alternatives that help our community get involved in green living or Eco friendly actions and social Logic.
Our goal
Is to involve businesses and people that are interested in taking actions that can support the idea of providing information about ECO-LOGICAL living.
We will work
To promote, projects, businesses and people that propose new ways to work, to live and discover more sustainable action (Green actions).